Lisa Mitchell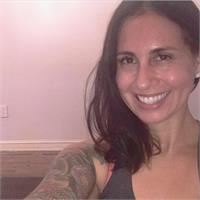 Yoga has played a transformative role in Lisa's life, as it has helped her quiet her mind of the habitual and often negative thoughts that had existed through various stages of her growth. Yoga allows her the awareness to deliberately choose thoughts that are empowering and make her feel a sense of peace and connection with everyone and everything around her.Lisa continues to be a student of Yoga, and considers her 500 Hour training with Srii Dharma Mittra to be most influential.  She has also completed 100 hours with Baron Baptiste, and 200 hours with Lisa Taylor and Sarah Gingrich. Additional trainings and immersions with Kathryn Budig, Seane Corn, Gina Caputo, Bryan Kest, Kino Macgregor and Phillip Askew have also been highly influential to her teaching and practice. Lisa's classes are challenging enough for experienced practitioners, yet simple enough and totally approachable for newer yogis. She uses positive affirmations to create a meditative flow, while still focusing on proper body alignment. She invites you to share her passion for personal growth, physical movement and deep connection with our true selves by practicing with her. Aside from being the co-founder of Dana Hot Yoga, she has completed Doctoral studies in Special Education, and has researched and developed an integrative yoga based program entitled Body Centered Therapy, which is designed for children with Autism Spectrum Disorder. Lisa is also an Adjunct Professor in the Graduate Education Department at St. Joseph's University. She is the proud mother of two daughters, a dog Buddha, and two cats, Dalli and Samadhi.
Dorian Mitchell
Dorian Mitchell has been a business owner in the Philadelphia area for nearly a decade.  He has extensive experience and management skills that have been tested across various arenas including sales, behavioral health and yoga.  As a Philadelphia native and graduate of St. Joseph's University there is a soft spot in his heart for the city of brotherly love.  Consequently, in 2007 when deciding on a place to launch Dana Hot Yoga with his wife and business partner he chose Bala Cynwyd.  This venture allowed him to find complete fulfillment by harmoniously blending his inherent creative talents and veracious entrepreneurial appetite with his calling to work in the helping/wellness industry.  For the past 5 years Dorian has served as the Director of Operations at Dana Hot Yoga.  Aside from designing and heading the original construction of the studio, he is responsible for managing the daily operations, developing sales and marketing campaigns, coordinating charitable initiatives, and charting expansion.
Kate Goodyear
…and one day I awoke, mid twenties, just on the other side of a harsh breakup, stressful job and feeling low. I asked if I could tag along with a friend to her yoga class and my whole life changed. Ever since my hands first hit the mat, I have had a deep and growing passion for my physical yoga practice. I found something to look forward to, feel good about, a sense of community, peace of mind and so much more! I jumped in with both feet and was soon taking two classes a day whenever I could. Teacher training was the next step and I was blessed to learn from some of the greatest teachers around, the staff at Dhyana Yoga! Through my learning, this passion has spread into other areas of yoga including meditation, mantra, and pranayama. My mission is to help others feel the way that my teachers helped me feel. Join me for a firey soulful practice to ignite and unite the mind, body and spirit.
Jenn Nonnemacher
Jen found yoga in 2010 while training for her first marathon and began practicing regularly as a means to strengthen her body and mind. She instantly loved the challenge of power yoga to allow her mind to stay focused in the present moment and feels it is a wonderful compliment to running. She truly believes yoga is for everyone and the goal should be to encourage us to be a little better than we were before by practicing patience and making an effort, both on and off the mat. Jen completed her 200 hour Hot Vinyasa Training at Dana Hot Yoga and is grateful for the opportunity to continue to learn, practice, and teach in an amazing community. She enjoys a challenging, sweaty, vinyasa/ power class, with an emphasis on variety, fun, and mindfulness.
Ali Calvaruso
Ali began practicing yoga in college and found it to be a great way to destress. After noticing drastic changes both mentally and physically, she began to develop a routine practice. Yoga eventually became a vital part of her well-being, and she continually strives to live the teachings of yoga off the mat, as well. She recently completed her 200 hour training at Dana Hot Yoga. Her classes are challenging and fun, and can accommodate all levels of practictioners. Ali is also our Kids Yoga Coordinator, and his certified through Child Light Kids Yoga.
Richard Garrison
Having been involved in a serious accident almost one year ago, Richard is certain that he would not be at his current stage of recovery had it not been for yoga. "It was a wonderful feeling to get back to my mat after lying in bed for so many months. Working safely back to my pre-accident level of ability has allowed me to appreciate and come to a deeper understanding of proper technique to avoid injury." Though classes are vigorous, all students will be able to participate in meaningful ways. This may be facilitated with pose modifications that make accommodations for injuries or the use of props.A great deal of Richard's training has been in the Anusara style of yoga, the lessons learned here have been the most beneficial to enhancing the experiences of his students. Anusara is a non dogmatic hatha yoga system that emphasizes alignment and a "celebration of the heart." His studies in the Pranakriya style with Yoganad Michael Carrol have also had a major influence on his teaching style. Richard strives to make the classes he teaches fun, mindful, and accessible.
Katherine Oaks
Katherine fell in love with the practice and philosophy of yoga in 2010 when she first tried a hot vinyasa flow. Since then she has immersed herself in a variety of styles and upon realizing how yoga was impacting her life, she chose to pass on what she was learning to others. She enrolled in a 200 hour teacher training program at Dana Hot Yoga in 2012. Under the leadership of Lisa Mitchell and Rachel Hoppenstein, Katherine deepened her personal asana practice, but also found a profound transformation in her daily life of experiences and interactions off of her mat. Katherine finds fulfillment in sharing with others the incredible power of yoga not just as a way to reach the body's physical potential, but also as a lifestyle of compassion, acceptance and unity.
Molly Porth
A Havertown native and world traveler, Molly stumbled across Dana Hot Yoga in 2009 as an undergraduate at Saint Joseph's University and was pleasantly surprised by the physically challenging and mentally calming nature of the class. After failing to convince her father to buy her a class package, Molly was fortunate to secure a work-exchange position at Dana that allowed for greater immersion in her personal practice. After spending a year in Mexico and noticing the void due to the absence of yoga, she gladly seized the opportunity to pursue a 200-hour certification in Hot Vinyasa at Dana, which she completed in June 2012. Besides dark chocolate and enjoying a cold pale ale in a hammock on a hot sunny day, nothing brings Molly greater joy in life than connecting with loved ones, friends, and strangers through the unifying practice of yoga. In September 2012, Molly will begin pursuing a Masters degree in Public Administration at University of Pennsylvania and ultimately hopes to dedicate her career to making yoga accessible to underserved inner-city communities.
Rachel Hoppenstein
Rachel H. began her practice in college, convinced by a friend to try out a class. The energy, sweat, and power kept her coming back and eventually to teaching. In 2008, Rachel earned her 200- hour certification in a month long intensive training at the Kripalu Center in Western Massachusetts. Melding her vinyasa practice with the inquisitive, Inner focus of her kripalu training, her classes are fun and challenging.Rachel insist that yoga not only strengthened her body but stretched her spine- causing her to grow half an inch!  She is also an artist and her paintings are present in the studio!
Otto Baldovich
Otto's practice began several years ago, as a way to manage stress while completing college. It did not take long for him to realize the mental and physical benefits of a healthy practice, and the following year he began training in the "Baptiste Power Flow" at 'Power Yoga Works' in University City. Upon completion of training, he moved to, and taught in Scranton, PA for several months before returning to the Philadelphia area, where he has been teaching for the past year and a half. Otto has also been trained in the healing art of Nuad Borarn, or "Vedic Thai Yoga," a form of traditional Asian (Vedic) massage that targets the physical and energy body. A Thai massage incorporates many aspects and stretches from traditional yoga, while combining other techniques present in massage, resulting in a rejuvenating, relaxing, and healing experience. Otto is also a student of Swedish massage, is currently a Certified Massage Technician (CMT) and will be a Licensed Massage Therapist (LMT) in Jan. 2012.

Bevin Lustman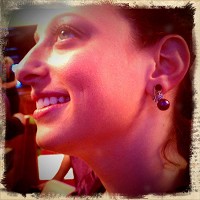 Bevin found her love for yoga back in 2009. After finishing her career as a collegiate athlete, Hot/Power vinyasa yoga was the only activity she believed kept her strength level challenged while continuing to grow the connection between her mind and body. A graduate of Dana Hot Yoga's teacher training program, she has established a deep passion for teaching Hot vinyasa yoga. She hopes students in her class find the class to be not only a great physical workout but also a time to develop a peace of mind.
Kate Boyd
Kate is a recent graduate of Dana Hot Yoga's Teacher Training program and is very excited to be teaching at Dana's new Glenside location. Kate has always had an interest in moving and healing the human body through exercise and positive lifestyle choices. She took her first yoga class in college, and over the past ten years has enjoyed a mixture of power, gentle Hatha and Astanga style yoga classes. She works as a physical therapist and has a particular interest in human anatomy and kinesiology. She also has studied Buddhist meditation and dabbles in Fung Shui for fun. With Kate's classes, you can expect a challenging, yet energizing flow with a focus on strength and increasing range of motion.
Hadji Jones
Philadelphia Native Hadji Jones is creating a serene experience for those following his teaching while allowing the healing principles of yoga to lead him on his journey. Students of Yoga that practice alongside of Hadji Jones "The Black Yogi" are afforded an environment filled with balance, and patience which sets the stage for stress relief, focus, and self-awareness.
Noelle Gesualdo
Noelle is a registered nurse and an advocate for mental health awareness and preventative holistic health practices. Formally trained in dance from the age of three, Noelle dabbled in yoga classes throughout her teen and college years to improve her flexibility and balance. After enduring a tragic suicide in her family and a ballet injury that left her unable to continue dancing, Noelle lost much of herself and her passion. While vacationing in Aruba in early 2011, Noelle was re-introduced to what she had lost by practicing yoga and learning about yoga's positive effect on the resort instructor, who was alike in age and had suffered a similar loss. This allowed Noelle to find inspiration to incorporate yoga into her life. By developing a strong mind-body connection through her practice, she has acquired a new perspective on life and has improved her overall health tenfold. Noelle describes her experience with yoga as "profound, invaluable, and life-changing," and it has inspired her to teach and share her practice with others. Noelle completed her yoga teacher training at Dana Hot Yoga in 2012.  She is very excited and honored to be a part of the DHY family!
Cicelee Chapelle
When Cicelee first began practicing yoga, it was strictly as a means to cross-train her body. Before long it had become her primary form of exercise, as it benefited both body and mind in ways her gym workouts could not. Thus after years of life in NYC, yoga became her path to healing mind and spirit, releasing struggle, and staying centered. As her passion for yoga grew, so did the idea that she should share it with as many people as she could. To that end she completed teacher trainings with Isaac Pena, Jude English, Mary Dana Abbott and Schuyler Grant, emerging from them a fully committed yoga teacher. Having now returned to Philadelphia, her hometown, she aims to serve her students with classes that purify the body and still the mind through the healing power of breath coordinated with mindful movement.
Noah Julian
Noah brings a unique and fun approach to this practice by incorporating his experience with several movement modalities and teachers of various styles, spanning over a decade. This vinyasa-fusion style, Vayu Vinyasa, is often slow and always highly challenging and continues to be inspired by Noah's many teachers, including close work with Simon Park in the style of Liquid Flow.
Eric Mamuzich
Eric became a believer in yoga after completing a 30 day yoga challenge. "Yoga completely transformed my body and started to infiltrate my mind. I use yoga to create opportunity and balance in my life." He has been practicing power vinyasa for a consistent 2 years and recently started teaching power yoga after completing a 200 Hour Teacher Training with Hotbox Yoga. He further has attended trainings with Baron Baptiste and Philip Urso. He is always thrilled to share this powerful transformational tool of yoga with everyone. Eric eagerly looks on to the new and exciting experiences right around the corner that come out of a regular yoga practice.
Julia Paddsion
Julia began her yoga practice in 2011 as a supplement to running while training for a half marathon. It didn't take long before she fell in love with yoga after consistently feeling physically stronger and more at peace in her mind. Yoga has helped increase Julia's confidence, motivation, and has created a more positive outlook on life. After completing her teacher training through Dana Hot Yoga in 2012, Julia feels more passionate than ever about yoga and is excited to share her passion with others through teaching.
Katie Freed
Katie originally sought out yoga to supplement her love of distance running, but truly fell in love with it while recovering from a running injury in 2012. She appreciated the mental and physical challenge of a Vinyasa flow, and began to see the positive impacts a consistent practice was making in all aspects of her life. She completed the 200 hour Hot Vinyasa Training program at Dana Hot Yoga in 2012 with hopes to provide a challenging and balanced class with a focus on anatomical benefits and the connection between mind and body. When she is not practicing yoga or running marathons, Katie is the Council Director for Girls on the Run Philadelphia, a non-profit after school program that encourages wellbeing and healthy lifestyles in pre-teen girls.